Winona Steamboat Days Parade Chair, Fred Benning, is pleased to announce the Isiserettes Drill and Drum Corp will perform during the Steamboat Days 2018.
This will be the 3rd time the Isiserettes have performed at Winona Steamboat Days with their last performance coming in 2016. The Isiserettes are a non-profit group based in Des Moines
, Iowa. The Corp is made of children 7 to 18 years old.
The Isiserettes have performed halftime shows for the Denver Nuggets (NBA), Iowa State University, University of Iowa, Drake University, and several WNBA halftimes. 2008 marked their first major League Baseball game performance at the ST Lou
is Cardinals Busch Stadium.
The Isiserettes Drill and Drum Corp was organized in 1980 to giv
e Des Moines area youth something exciting and positive to do. They stress the importance of a formal education while helping the your to develop their creative and natural abilities.
They will perform Saturday, June 16th at 8pm in the Merchants Bank parking lot, Lafayette and Second Street and Su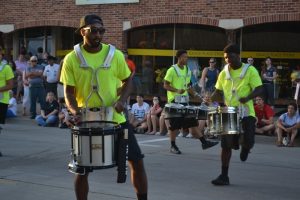 nday, June 17th in the Steamboat Days Grand Parade. The Grande parade will start at 12:01pm. For a complete list of Steamboat Days events go to www.winonasteamboatdays.com or the Winona Steamboat Days Facebook Page.