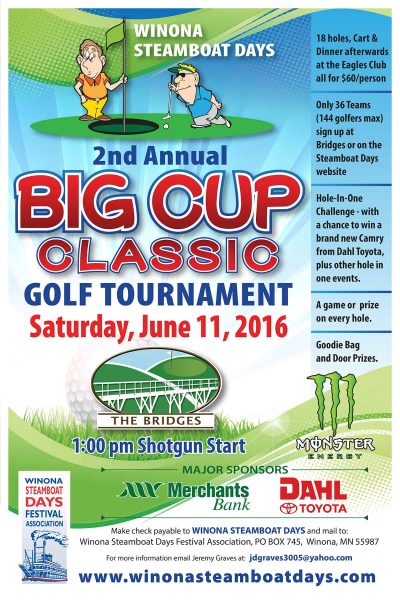 Steamboat Days will again begin a little early this year.  Organizers have announced
plans for the second annual Steamboat Days Big Cup Classic on Saturday, June 11th 1PM shotgun start.  The Dahl Toyota and Merchants Bank will sponsor this year's event at the Bridges Golf Club.
Members of the Winona Steamboat Days Festival Association say another fun day is planned, with a gift bag from Merchants Bank for every participant, door prizes, prizes for every hole, and a Hole-In-One contest sponsored by Dahl Toyota.
The Big Cup Classic is open to the first 25 foursomes to sign up.  The $60 price per person will            include a t-shirt, gift bag, 18 holes of golf, a cart, and lunch afterwards at the Winona Eagles Club.  To join the fun, or for more information, stop by Bridges or visit winonasteamboatdays.com.
Steamboat Days officially kicks off on Wednesday, June 15th, with events planned throughout the
weekend.